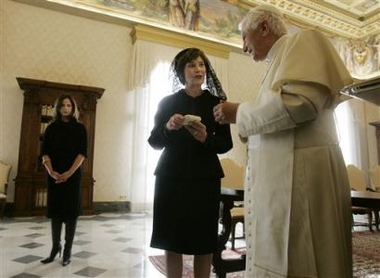 First Lady Laura Bush had an audience with Pope Benedict XVI this morning, during her stop in the Italian capital on her way to the opening of the Olympic Winter Games in Turin tomorrow, reported ANSA.

Pope Benedict XVI met with Laura Bush in his private library on Thursday and wished the first lady "a peaceful time" at the upcoming Olympics in Turin, where she is heading the U.S. delegation.

During the 20-minute meeting, Mrs. Bush gave Benedict a small silver bowl; the pope in turn gave the first lady and Barbara rosaries and Rooney a Vatican medal.

On the eve of the visit, the first lady told Vatican Radio in an interview broadcast Thursday: "The American people are a religious people, of course all different religions. But we share a lot of the same values with the Catholic Church."